Time and cost effective Residential Applications for BUILDING safety NETs
Safety Nets NZ has developed a cost effective system, designed specifically for residential construction applications that addresses major safety issues on all house construction projects from new house builds to re-roofing and new additions to on-going maintenance.
Our professional service and quality products address the Best Practice Guidelines for 'Working on Roofs' as prepared by the Labour Group of the Ministry of Business, Innovation and Employment (MBIE) now WorkSafe NZ, in conjunction with the Roofing Association of New Zealand.
With over 150,000 sq.m of nets in stock and a nationwide team of certified riggers at our disposal we are recognised as the largest provider of safety net fall protection systems for residential applications in New Zealand.
Safety Nets NZ currently provide effective fall protection systems for 80% of the residnetial group builders in the greater Auckland and Waikato regions - GJ Gardner, Universal Homes, Sentinel Homes, Platinum Homes, Signature Homes, Jalcon Homes, Mike Greer Homes and more.
Operating branches from Christchurch, Queenstown, Bay of Plenty, Waikato, Auckland and Northland, we are currently installing safety netting fall protection systems in residential applications on over 130 residential properties per week, throughout the country – totaling over 5500 houses in the last year.
We will respond to your enquiries on the same day we receive them or at the very latest within 24 hours. Our experienced team have devised a m2 formula rate for the various types of installations so we will generally provide you an estimate over the phone.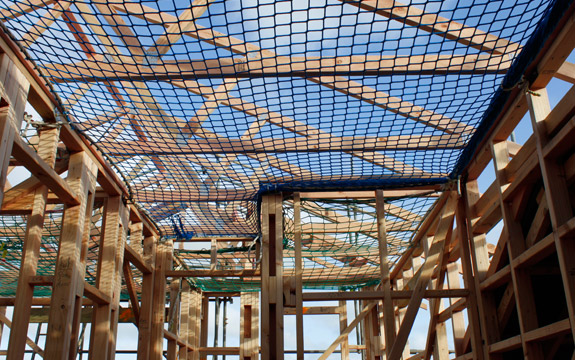 With our current workforce, vehicles, safety netting and componentry to hand, we have the resources to install up to 150 houses per week nationwide. Working at this capacity this gives us efficiencies of scale and means we are more competitive than other smaller companies. We operate a tailor-made job control software that allows multiple users to load jobs. Our installers view this remotely for efficient up-to-the-minute management of current and up-coming jobs. We manage all of our vehicles with GPS tracking thus ensuring that all jobs and locations are entered with optimum efficiency.
Whether small residential jobs or large commercial installations, Safety Nets NZ base our service on delivering the 3 C's of safety nets installation:
Compliant Nets
Compliant Rigging
Certified Installers.
Safety Nets NZ are able to ensure that all of your requirements are met, with minimal inconvenience to your construction activities at a realistic and competitive price.
The ongoing and increasing demand for our services and our extensive list of repeat customers is testament to our commitment to the Safety Nets NZ company mission statement of:
ensuring that all of our customers get the best possible service
to suit their specific requirements
on every single occasion and at all times
There are no exceptions as far as we are concerned.