PEACE OF MIND THAT YOU ARE DEALING
WITH THE BEST Fall Protection System
Our safety nets are sourced from Leon de Oro Nets (UK) Limited, which is the UK's leading supplier of safety netting. The nets themselves are actually manufactured in Spain by Tecnologia Deportiva, which is Europe's leading net manufacturer. All of the safety netting supplied by Leon de Oro Nets (UK) Ltd complies with the European Standard 1263-1 "Safety Netting".
The European UNE-EN 1263-1 Standard was approved in 1997. The standard replaces UNE 81-650 of 1980 and establishes the minimum requirements with which all safety netting must comply within the EU.
The EN 1263-1 standard also establishes the compliance requirements for the ropes used to fasten and join nets, safely. All safety nets supplied by Tecnologia Deportiva and Leon de Oro Nets (UK) Ltd to Safety Nets NZ, comply with these regulations.
Any net manufactured to these standards are supplied with test patches which can be used to test the ageing of the nets without recourse to their removal from service. The test patches are supplied with a high security seal marked with the name and unique registration number for the safety net.
Each net supplied can be identified by a label which displays the following unique information.
The name of the manufacturer
The address of the manufacturer
Type of safety net
Dimensions of safety net
Registration Number
Date of manufacture of the net.
The nets are made from high tensile, multifilament polypropylene and are knotless.
This form of construction means that the nets are flatter in catenary which reduces fall distance and also reduces the loads on both the fallen and the structure.
Our team of rigging installers and supervisors are FASET trained and certified. FASET is the trade association and training body for the safety net rigging and fall arrest industry, worldwide.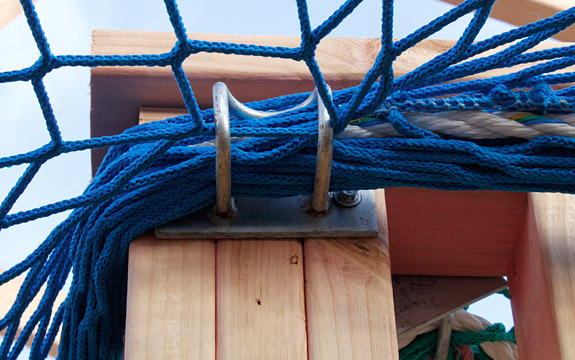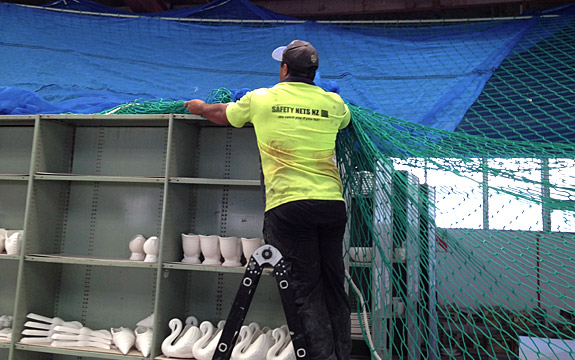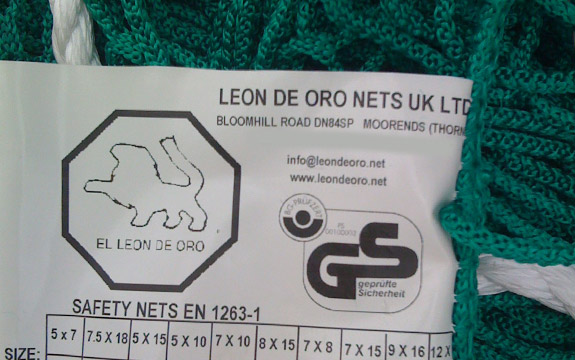 Safety Nets CERTIFICATION
Safety checks over and above compliance with Safety Nets NZ
Our fully qualified site supervisors are FASET (Fall Arrest Safety Equipment Training) trained and are fully certified with regards to rigging, inspection and examination of safety nets.
FASET is a UK based entity that was established as the trade association and training body for the UK and Irish safety net rigging and fall arrest industry.
All of our safety nets comply with EN 1263:1 (2002) Industry Safety Nets and will be used in accordance with the requirements of EN 1263:2 (2002).
HANDOVER CERTIFICATE
At the completion of each to installation the rigger signs off the site specific Handover Certificate to confirm that works can proceed above the net system. Our dedicated in house safety net inspector then inspects installations, on a random basis, effectively assessing the quality and compliance of the net installation, and identifying any issues that might arise. The second inspection is not mandatory to ensure compliance, but has been implemented by Safety Nets NZ to effectively audit installations for compliance with approved installation standards.