Walk-on safety nets – a safe & cost EFFICIENT walkable platform
Walk On Nets are also known as tensioned access platforms or work platform nets, and are increasingly becoming recognised as a safe and superior alternative form of access over traditional solutions such as scaffolding for certain tasks and where MEWP access is unavailable.
Walk On Nets provide a walk-able work surface that is a cost effective alternative in comparison to scaffolding systems. They are lightweight low-impact, can be installed under deck areas, bridges, tanks and almost any large structure or span. They can also be used in conjunction with rope access and any other fall arrest setup to ensure total worker safety and job site efficiency.
Walk On Nets also provide a suitable work platform for many types of work tasks such as surface prep and coating application, inspection, steel repair and pipework installation or repair.
UV stabilised, tear resistant and load tested, Walk On Nets are quickly and efficiently installed with the help of our certified riggers. Nets are manufactured to BS EN 1263-1 in the same way as traditional fall arrest safety nets, however Walk On Nets are of a much higher specification of Class B 4.4kJ. Being a textile system, it is very light weight, cost effective and massively reduces man hours working at height by the installation and removal process.
The Walk on Netting system  is normally constructed of either 45mm or 60mm net material with tensioned webbing straps woven through the mesh to form a 2m x 2m tensioned grid , and allows users to walk around and carry out light duty tasks in complete safety. The system is mounted onto a structure in a variety of ways such as webbing slings, chemical anchors or through bolts – the specific method will be specified at the survey stage but the possibilities are endless. 
The Walk On Net system is specifically designed and engineered for a project with the task to be carried out taken into consideration, the system is designed in such a way as to reduce any sag to an acceptable level when in use. Systems are normally installed with a fall arrest safety net and debris containment membrane beneath, this has the dual benefit of encapsulating the workspace allowing works to continue below and disguising the feeling of exposure for users, the safety nets also offer collective protection to the users and allow unrestricted movement for the workforce by eliminating the need for running lines.
Benefits of Walk On Nets are:
Speed of installation over scaffolding
Substantially less equipment to transfer through occupied buildings
Reduced hours working at height
Clear area beneath for other trades to operate
Significant cost savings
Less obtrusive than a large scaffolding structure
Reduced carbon footprint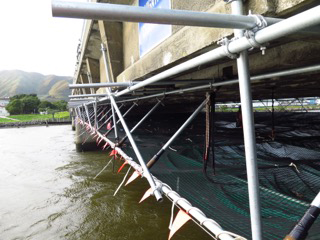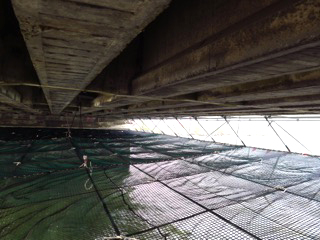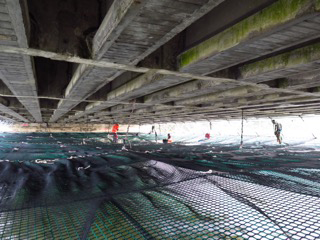 NORTH ISLAND
SOUTH ISLAND