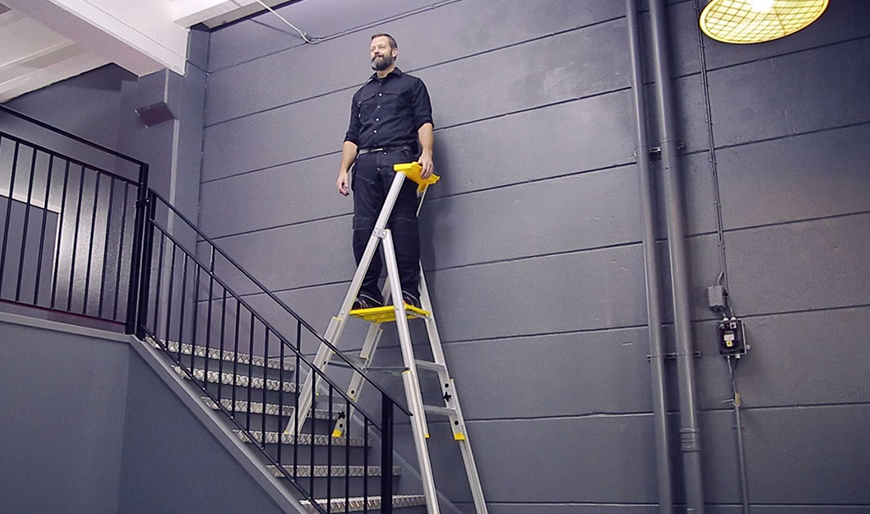 Ladders and the new Health & Safety at Work Act
Site Safe recently put out a publication on the safe use of ladders on construction sites which I think is worthwhile including in our regular news bulletins.
Despite what you may have heard, you can still use ladders under the new law.
The new law doesn't specify heights at which you should or shouldn't use a ladder. It does say you must use equipment that appropriate to the task however. So if you work at height, you must take action to protect workers from harm that could come from a fall, as far as reasonably practicable.
Work platforms, scaffolding and towers are all options that help prevent falls. Ladders should be the last option, and only used for lower risk and short duration tasks. According to WorkSafe, approximately 70% of all falls are from ladders and roofs. The cost of these falls is estimated to be $24 million, a year-to say nothing of the human cost as a result of these falls.
If you need to use a ladder, here are some quick tips on how to do so safely:
Do:
As much prep work on the ground as possible.
Use a toolbelt, don't put tools on the rungs.
Secure the top and bottom of the ladder to prevent slipping sideways or falling backwards.
Keep three points of contact.
Stop at the third step from the top of the straight ladder or ensure you have at least 1 m extending past the point to which you are stepping off from.
Use an  industrial standard ladder in good condition
Ensure the stays and clips are secured on stepladders, place the steps towards your work and avoid side on loading.
Ensure all working areas and accessways are clean, level, well lit and in good condition. Remove unwanted material and construction waste regularly from sites and it does not accumulate.
Ensure construction materials, power lead, tools and equipment are positioned and secured to avoid creating hazards. 
Don't:
Overload
Over reach
Work near openings or voids
Have more than one person on the ladder at a time
At Safety Nets, the safe use of ladders is a fundamental part of our work practices. We always strive to ensure that our team has the right equipment, and is educated on how to use it, at all times to ensure that WorkSafe requirements are satisfied.
Click the images to download PDF of Worksafe Spec sheet.
Until next time – take care.
Craig J Daly
GENERAL MANAGER
craig@safetynetsnz.co.nz
021 782 583
SAFETY NETS NZ LIMITED
PO Box 305 206, Triton Plaza, Mairangi Bay
FREEPHONE: 0800 NETSNZ (638 769)
Telephone: (09) 478 9047