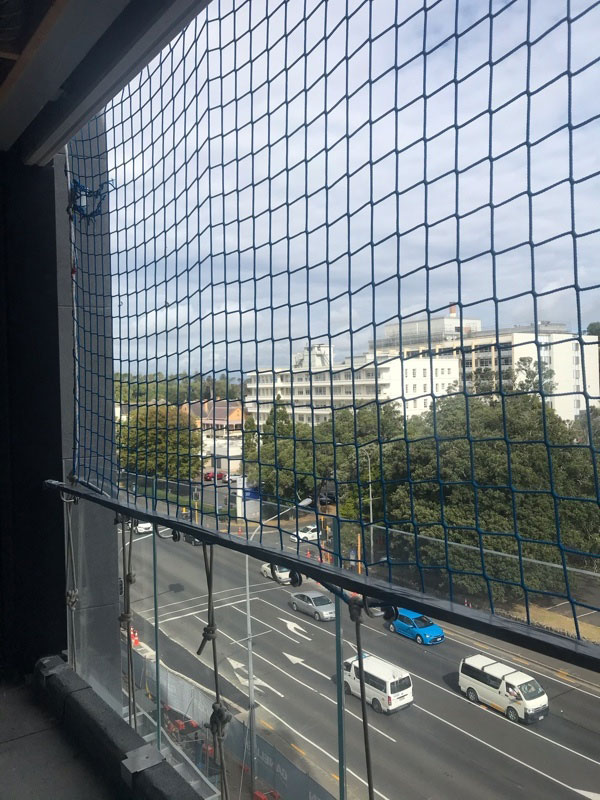 Vertical Barrier Nets
The team at Safety Nets NZ continues to look for innovative solutions to height safety problems, and a further example of such an installation can be seen at the apartment complex currently under construction at Alexandra Park in Auckland.
The main contractor identified a potential hazard that it wanted to address as interior fit out works on the apartments were undertaken. The glass balustrades to the apartment decks had been installed, but additional fall protection measures were required to safeguard against someone falling over the actual balustrade whilst undertaking their fit out/finishing works. 
The main challenge associated with the installation of vertical barrier safety nets involved ensuring that the installation of the nets would not impact on finishing works within the apartments themselves. 
Working closely with the main contractor we were able to develop a system that satisfied all the client's logistical and practical construction needs, whilst also mitigating the risk associated with the hazard that had been identified.
Remember, safety nets don't only need to be deployed horizontally. Vertically installed safety nets can also provide an effective fall arrest solution where it proves impractical to install nets in the traditional manner.
If you have a situation on site where you are concerned about a possible fall hazard, please call us as I am sure we can come up with a practical and cost-effective fall arrest solution.
Until next time.